I can only imagine that writing a Murdoch Mysteries episode that revolves around murder most foul in the turn-of-the-century wine industry would involve hours and hours of detailed "research".
It's a tough job but someone has to do it, right, Simon McNabb and Peter Mitchell?
But back to the glass of wine, I mean, the matter at hand; while this ep was a sharp turn in tone from the season opener, it was classic MM nonetheless.
ONE)  A not-so-mysterious Murdoch cameo.  Iniskillin Wines co-founder Donald Ziraldo lent an aroma of authenticity to the proceedings – and no doubt brought a few cases of his wares to the set with him. For "research purposes", of course…
TWO)  Tried and true Murdoch Mysteries technical wizardry.  Peering inside the brilliant mind of Detective William Murdoch is one of the show's greatest strengths. And it doesn't hurt that it gives viewers a series of stunning special effects to enjoy endlessly.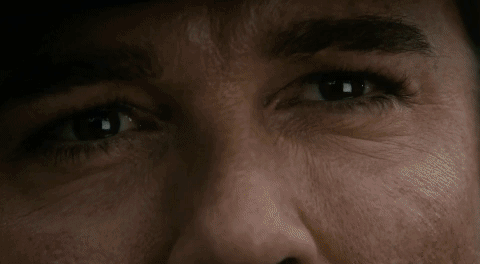 Never gets old, does it?   (GIF courtesy of Greg David at TV , eh?)

THREE)  The Murdoch/Watts crime-solving duo.  Daniel Maslany's Detective Watts is one part Sheldon Cooper, one part Detective Columbo and one part a wholly-Canadian original creation. Watching Watts and Murdoch work together while clashing (respectfully, of course) adds another ongoing element to the show, thus keeping it fresh after ten seasons.

I sincerely hope Maslany gets his own spin-off series someday but until then, his presence here is more than enough.
Four)  Brackenreid is back!  Oh, how I missed Tommy Craig and his awesome gruffness. It was a loooong summer without it, baby. Again, I pray we see the good inspector on a more regular basis this year.
"Go ahead, ask me to be on your blog one more time, Hook…"
Five)  Murdoch indulging in… wine?  This was worth the price of admission alone. Though, to be honest, I would've loved to see him get good and sloshed, run down to the morgue and whisk Julia off to the back room for a turn-of-the-century quickie.
What? Just because it's a Canadian conduction doesn't mean that couldn't happen. Canadians have sex you know! Where do you think Canadians come from in the first place?
SIX)  A zinger from the good doctor?  "Wine was his life, and his death – it would seem" – Dr. Julia Ogden, showing us once more that she's not just a pretty face, a gorgeous body and an expert archer.
SEVEN)  Not Miss James?  Yes, it appears that in order to let the character of Rebecca James evolve, the writing staff had to let her go… off to Chatham. It's a smart move for the show's narrative and a victory for the character.
That said, it just sucks. I miss Mouna Traoré already…
"Maybe now we'll finally get to have relations, Rebecca?"  Don't count in on it, Nate.
And that's all I have for you this week. But next week promises to be epic, as a certain endlessly-fascinating historical figure will be popping up.
Until then, see you in the lobby and on the CBC, kids…