What can I say about an episode of Murdoch Mysteries that begins with a brilliant score, a deadpan joke from Det. Murdoch and most importantly, a dead guy who hoped to get lucky on a floating swan but instead got a one-way ticket to the great beyond?
Fortunately, a few things come to mind…
ONE)  Another cool title.  Painted Ladies is indeed another clever Murdoch moniker (yes I'm quite clever myself, thank you). Peter Mitchell's writing crew have been knocking 'em out of the park all season and this week's title is the tip of the turn-of-the-century iceberg.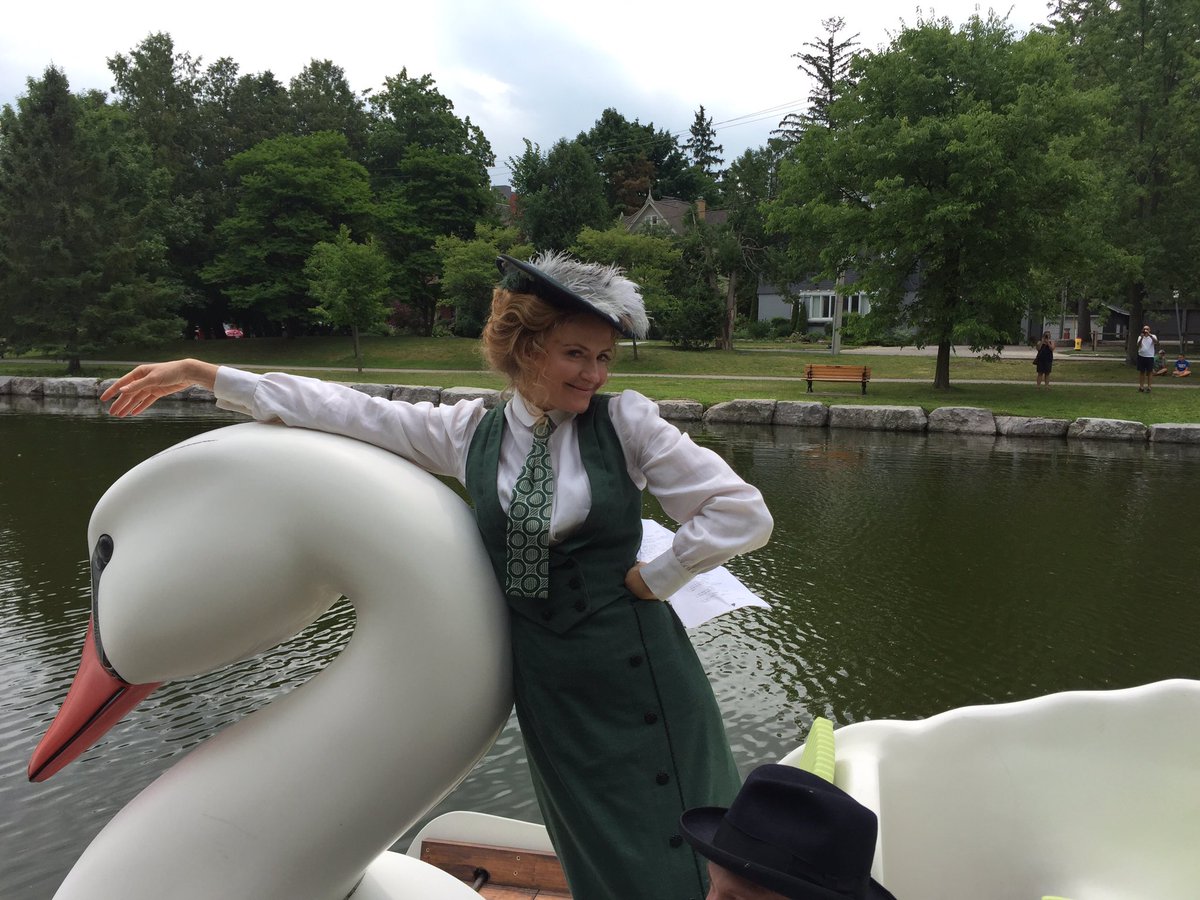 Before I get going… How awesome was Hélène Joy last night? Larger than life even!

TWO)  Fifty Shades of Crabtree.  "Look at George's sexy knees!" – The wife, after seeing Jonny Harris and Erin Agostino in the afterglow of their scandalous relationship.
MM has always been bold when it comes to discussing S-E-X but the Crabtree/Nina coupling has given the writers an opportunity to give the audience an intriguing couple as well as a small taste of what they see in heaping doses on other shows.
Don't get me wrong, I'm not suggesting Murdoch should adopt an HBO approach; I think they balance the titillating aspects of the good detective's cases with good clean writing. And I hope this never changes. Murdoch Mysteries is a show you can watch with your grandparents, one that won't bore your kids to death.
Pun intended.
But writer Mary Pedersen crafted an entire episode around Victorian sex – and she smashed the notions most people have concerning it – masterfully.
"I don't know, George… I still say we should've at least displayed some Nina/George Victorian Missionary position action! Sex sells and I need this job!"
THREE)  A Fatal Attractionesque serial killer?  With a thing for swans, even? Again, the writing team – led by scribe Mary Pedersen – gave us an intriguing series of crimes motivated by a complicated series of human emotions. Revenge for being socially ostracized is a sympathetic crime and that's where MM excels.
A villain is always more interesting when they're presented in grey tones rather than black-and-white hues, don't you agree? By episode's end I truly felt for the killer rather than the victims. Don't think me harsh; who hasn't vowed revenge upon torturous schoolmates? The only difference in Painted Ladies was a young lady (a human swan, according to George) who made good on her vow, even though her plans took years to reach fruition.
FOUR)  Nina Bloom.  Erin Agostino is a gifted actress and her Miss Bloom is a fine addition to Murdoch's stable of strong, forward-thinking females who defy social convention and live life by their own rules. Who else thought she was going to hit the road by episode's end? It's a credit to MM's creative team that they've decided to keep Nina around.
For now.
After all, you never what to expect from a show with "Mystery" in the title…
FIVE)  Slugger Jackson – at last!  Kristian Bruun is one busy actor (he's on a little show called, Orphan Black, if you're not aware) and so his MM appearances have been few and far between – but he made up for it this week. Slugger even got a brief-but-meaty arc; first he vowed revenge on Higgins then he ran off to save the poor bugger from humiliation. (And a possible mauling.)

And speaking of Henry Higgins…
SIX)  Lachlan Murdoch got laid!  As Henry, I mean. Higgins finally appeared vulnerable rather than annoying when he admitted (gasp!) that he isn't a ladies' man at all. A single line, "The problem is, I always do…" gave us loads of character development and made us all feel sympathetic for poor Higgins.

But in the end, his good buddy George inspired Henry to embrace his inner Don Juan and head out to bag himself a babe.
And wouldn't you know it? His shocking (but awesome) pick-up line worked! I actually cheered when the young lady's expression went from enraged to aroused. Way to go, Higgins!
Now just make sure you hang onto that boldness long enough to seal the deal! That chick looks like a handful, to say the least…
"I say, Higgins, you may actually get lucky, ole chap!"

SEVEN)  A well-rounded episode.  Painted Ladies gave us a full cast (minus the Inspector and Miss James, sadly) a fascinating mystery, a female serial killer, burlesque dancers (woo hoo!) deadpan lines from Yannick Bisson and more! And Robert Carli outdid himself with the fun, masterful opening-scene score, didn't he?

Guest stars Thom Allison (Oscar Ducharme) and Linzee Barclay (Bessie Fellowes) acted their hearts out as well. Oscar was endlessly-fascinating as a glamorous fashion/make-up consultant and
Peter Mitchell really needs to petition Shaftesbury for a raise for everyone on the MM team.
Good luck, buddy. 
EIGHT)  The coolest widow in Murdoch history.  Honestly, Bessie Fellowes rocked! Not only did she help Detective Murdoch crack the case wide open, she went from grieving – and clueless – widow to cruel – but hilarious – elitist in three scenes.
The "B" in Linzee Barclay stands for brilliant!
NINE)  Constable Crabtree nabs the killer!  (With some help from his lover.) George was an orphan and never went far in school but he's come far enough in ten seasons to become a detective in his own right. Unfortunately, a stint in prison for a crime he didn't commit (don't you hate when that happens?) means he won't be an actual detective but that doesn't mean he can't bring a murderous "swan" to justice, right?
TEN)  Nina Bloom made it to the end of the episode!  I honestly thought Erin Agostino was going to be written out of MM by the time the credits rolled. (She's great but poor George never seems to win for long.) But Peter Mitchell and Co. bucked their own precedent and kept Nina around.
She could've been the killer  – but wasn't.
She could've left George standing there with his… nightstick in his hand – but she didn't.
Well done, MM team.
"Oh, George, I'm so happy! I can pay my rent this month!"
And that's all I have to say about that. For now.
See you on the CBC next week, kids…