If you're scratching your head right now… you may have fleas. Or maybe you're not familiar with the most irreverent thirty minutes on Canadian television?
Well, you're not as smart as you think you are, hmm, Poindexter? Allow me to illuminate you. Still Standing is Canadian comedian Jonny Harris' love letter (minus the naughty bits, sadly) to small town Canada. Every week, Harris steals borrows a camera from the CBC, convinces a small crew to join him (Canadians will do pretty much anything for a ten dollar Tim Hortons card) and ventures to small towns on the ropes and immerses himself in the lives of locals – whether they like it or not.

And so Harris ferrets out residents' deepest, darkest, most cringe-worthy secrets, mashes them into a stand-up comedy routine and shares them with the entire world via the wonder that is television.
Or something like that.
Still not convinced? Boy, tough internet. Okay, here are ten reasons this little hidden gem of a show should be a part of your life.
 1)  You can watch Still Standing while sitting down.  I know many of you are fearful of being pulled into those insidious cults that force their members to engage in sick, twisted activities. Like cardio. Fear not, potato of the couch, you can enjoy Jonny's antics from the comfort of that ass-groove on your couch that took you so many years to get just right. 
 2)  It's a hybrid. Hybrids are cool.  Sadly, Still Standing isn't a chihuahua/octopus hybrid (I'm still waiting for Octohuahua on Syfy), but it is a comedy/reality series. Let's face it, even reality series about comedians aren't that funny, but Jonny manages to mine comedy gold from everyday life week after week.
Ans speaking of Jonny Harris… 
3)  He's Crabtree!  As everyone knows, I worship at the altar of all things Murdoch Mysteries, and in my house, Jonny Harris' George Crabtree is the #1 reason we tune in week after week. Yes, the show is overloaded with some of the finest thespians to ever grace a screen, big or small, but Jonny's George Crabtree is something special.

George is Charlie Brown for grown-ups; eternally rushing at that football, only to have it pulled away at the last second. Nothing keeps him down for long. His coroner girlfriend left him for a cad. And when he couldn't bring himself to forgive her, she hooked up with another woman. Then he snagged a beautiful single mom whose husband returned from the dead just as she agreed to marry him. Then the husband turned up dead and Crabtree was falsely imprisoned for it. He was exonerated, but the single mom went into hiding to protect her son, who actually committed the crime.
I don't know about you, but I hate when that happens to me.
4)  Canadians just don't know when to give up – Still Standing celebrates that spirit.  Every week Harris and his crew visit a small town that's seen better days. And every week they introduce us to residents who refuse to throw in the towel despite some pretty big messages from life. Are they brain damaged in some way? Perhaps, but crazy people are fun to watch. 
Still Standing highlights the resiliency of the human spirit. Beats the hell out of the latest adventure of the Kardashians, doesn't it?
5)  This show could save your life, kids.  It turns out Fogo Island, NL would be the perfect refuge if the zombie apocalypse ever comes to pass. Why? Watch the show online and find out for yourself! I can't do everything for you, I'm a busy guy.
6)  Canada is damn beautiful.  Like, Georgina Reilly smothered in bacon while floating in a tub of Coca-Cola beautiful. Don't believe me? Watch Still Standing and you'll see sights like this…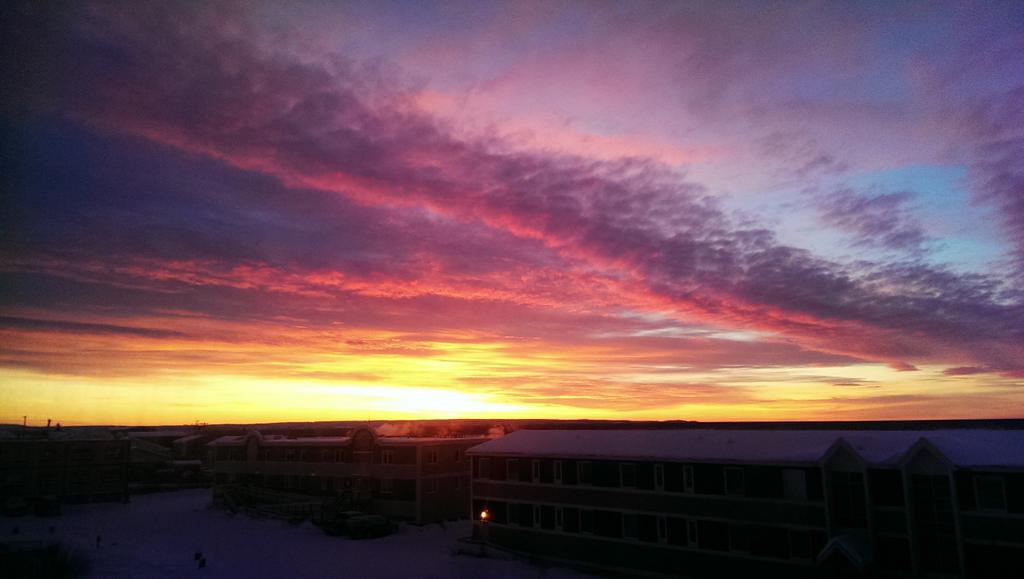 You're welcome. And yes, Inuvik really is a paradise.
7)  Jonny Harris is damn beautiful.  I mean, he's damn funny. Yeah, that's it. The next time you're trolling the web for naked pictures of Donald Trump cavorting with Vladimir Vladimirovich Putin, take a second and check out Jonny's stand-up routine on the YouTube. He'll knock your socks off, man.

8)  A change will do you good.  Most of us live in a sprawling metropolis and have never experienced the joys of small town living. Fortunately, Jonny Harris is here to enlighten us with the tastiest slice of "real" Canadiana you could ever ask for. I just wish CBC had smell-o-vision. Wait, Jonny visits some pretty "earthy" locales. Never mind.

9)  Plenty of male frontal nudity.  Before you get too randy, I'm referring to Canadian wildlife. We won't count Jonny's sex tape, "What Have You, George? My Junk, That's What!", which was removed from the web due to lack of interest.
And finally, you should watch Still Standing because…

10)  It's on CBC!  If you were born in my home and native land, a love for the Canadian Broadcasting Corporation is in your blood. If you weren't, well, it's never too late to turn over a new leaf and start watching a network that actually believes in morality, integrity and old-fashioned values.
Sure, the CBC has had its share of issues over the course of the last few years, internally and otherwise, but the network is as much a part of Canada as hockey, humanitarianism, and beer. I hate alliteration.
So if you only have time to watch one kick-ass Canadian TV show… watch Murdoch Mysteries.
But if Murdoch isn't on, watch Still Standing. You'll be glad you did. And if you're not, blame Jonny Harris.
Season One of Still Standing has wrapped, but you can find it on the internet. (They have everything on the internet. I love the internet.) And Season Two has been greenlit so get ready for that, kiddies.
See you in the lobby, friends…